A timber garage in the West Midlands is a fantastic addition to your home. Alongside looking aesthetically pleasing and blending in well with natural surroundings, timber garages provide the best vehicle storage all year round. Here at G.E Collis and Sons, we specialise in supplying timber buildings, including timber garages in the West Midlands, which guarantee to stand the test of time whilst still retaining their high quality aesthetic. So, if you're interested in purchasing a timber garage in the West Midlands, look no further!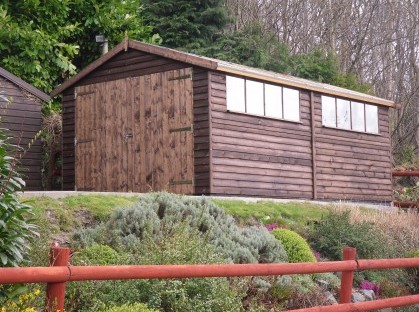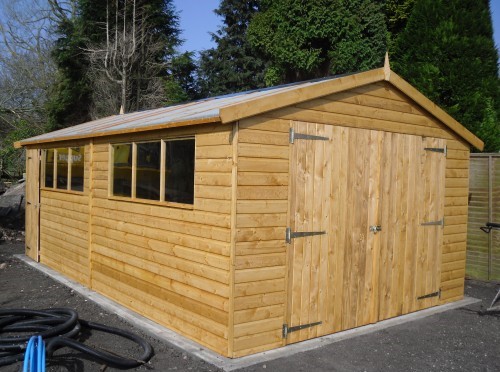 Why Should I Choose Timber Garages in the West Midlands?
Perhaps you've always wanted your own timber garage to store your vehicle and DIY tools, or maybe you're still unsure about whether or not a timber garage in the West Midlands is even the right choice for you. Whatever your situation, as the timber building specialists, we can provide you with everything you need to know about why you should choose our timber garages in the West Midlands today!
Unlike brick or concrete garages, our timber garages are free of condensation due to featuring natural insulation. Combine this with our Sissalcraft 822 damp proof membrane and you have a garage which is protected against damp, mould and the elements all year round! This is especially beneficial for anyone storing away a prized vehicle to keep it in top condition!
Our timber garages are also incredibly easy to heat as wood is a natural insulator, this means you can wave goodbye to the days of working away in your cold, gloomy garage.
Timber is also breathable which means you will benefit from a storage space which keeps your vehicle and tools at a constant temperature all year round.

As standard, we also treat every timber garage we supply with a Langlow Spirit Based Preservative which is available in a variety of colours to ensure longevity and protection against the elements. This means your garage will retain its great looks for many, many years!
Our timber garages in the West Midlands are also undoubtedly more attractive than concrete buildings and they especially look great amongst natural settings. This is great for those looking to increase the value of their home as timber garages are becoming an increasingly popular feature for these very reasons. The timber has a welcoming and natural look which just simply cannot be achieved with concrete.
Our Timber Garages are perfect for all seasons and activities. You can fix the car, or relax with friends. What could be better than playing at an online casino in a good company? Only play with a no deposit bonus on one of the sites listed here. You just need to registeк, to get a couple of dozen bucks for free. which you can spend on your favorite online slot machines or card games with live dealers.

Finally, to make the process of investing in a new garage as stress free as possible, delivery and erection is included for all timber garages in the West Midlands ordered within a 45 mile radius of our workshop.

Choose G.E. Collis & Sons for Timber Garages in the West Midlands
At G.E Collis and Sons, we have been supplying timber garages in the West Midlands for almost 60 years now and during this time, we have become renowned for providing stunning timber buildings which are built to stand the test of time. If you have any questions regarding out timber garages, please do not hesitate to get in touch. A member of our highly skilled team will be more than happy to help! You can also browse our current range of timber garages online here.